THE HISTORY
If you're around the car scene in Northern Ireland you'll be familiar with Dubshed, a VAG based show, held at the Eikon Exhibition Centre, Lisburn (Northern Ireland) which was celebrating it's 10th year this year, known as Dubshed X.

Dubshed boasts over 10,000 visitors on the show weekend, 700 cars displayed and 40 show and shine judging categories with 1 car of the show trophy. It's clear to see that the standard of builds is very high but it's not always the highest budget that comes out on top as car of the show.
Historically Dubshed was a VAG based only show but in the last few years they've allowed ILB Drivers Club to have their own hall with non-VAG cars ranging from S15's to Airplanes to Helicopters. This year they were given the Logan Hall, which is Eikon's newest hall with 140×40 metres to fill, which was no problem.
THE PAVILION HALL
As it has been for the last couple of years, Dubshed was always in the Pavilion Hall which is the main hall showcasing what they chose was worthy of an inside spot. This year was no exception with some examples of exceptional cars.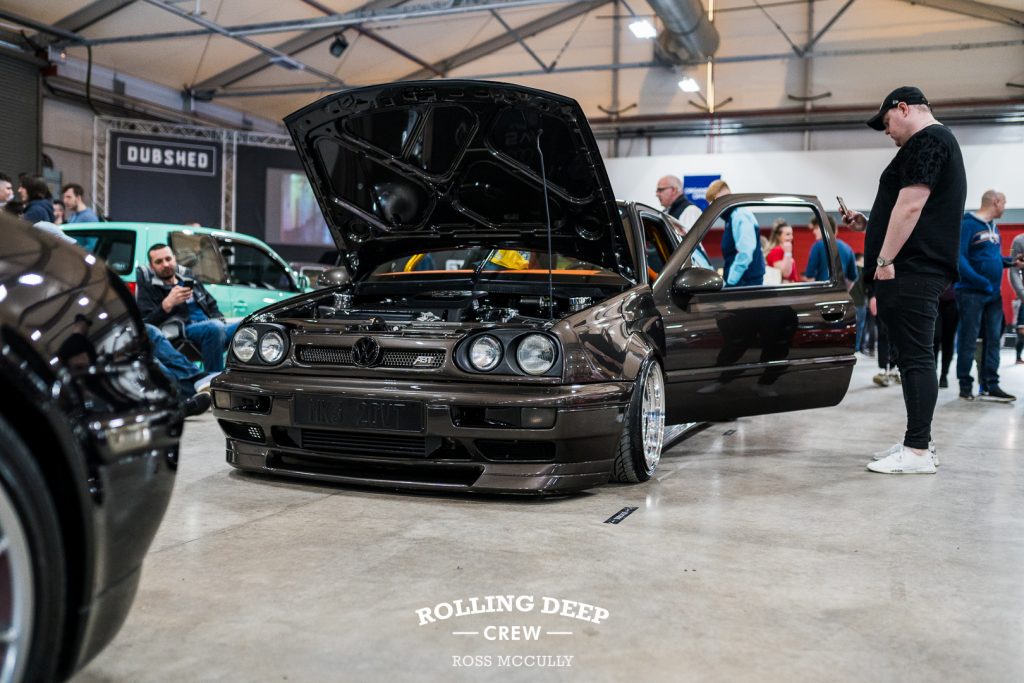 Front and centre (by the) stage were interesting builds including an ABT Mark 3 Golf with an Audi 1.8 5V engine conversion. Stunning inside and out with a bright orange interior giving contrast to the brown paint.
THE LOGAN HALL
One car which stood out in the hall was Aaron's 318is E30 with an Airlift suspension on Image wheels. The details aren't just on the outside with a white roll cage and Sparco Evo seats inside.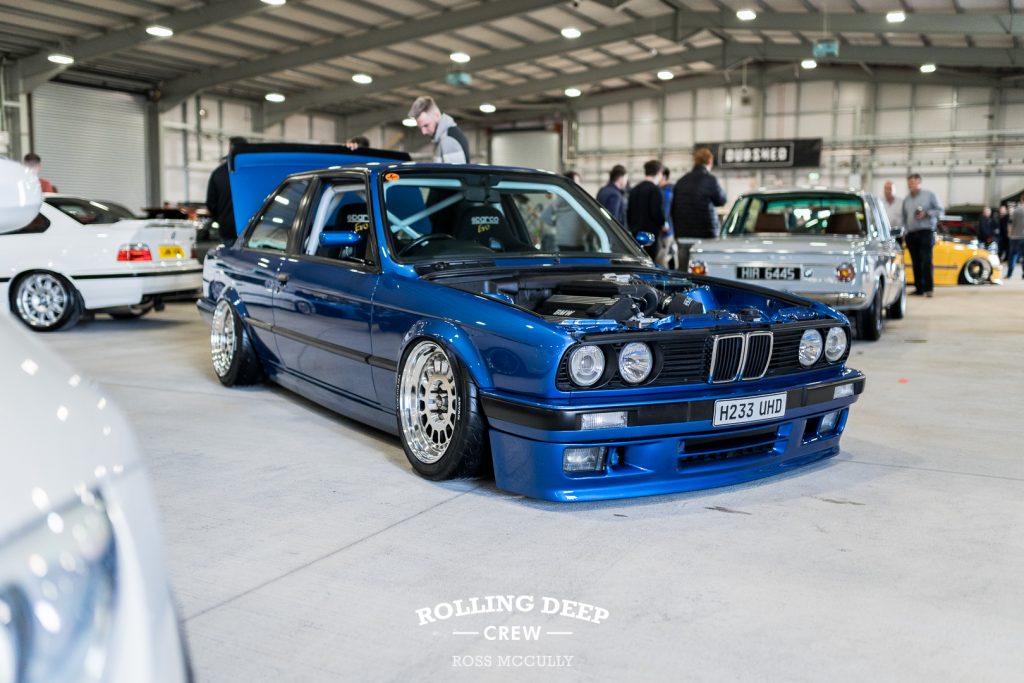 To any other person, this may seem just like your bog standard Subaru Impreza, but to anyone who's a fan of Subarus or Japanese cars knows that this is a 1999 RB5 which was produced to celebrate Richard Burns (and his race number) with 444 examples being produced, and this being number 423.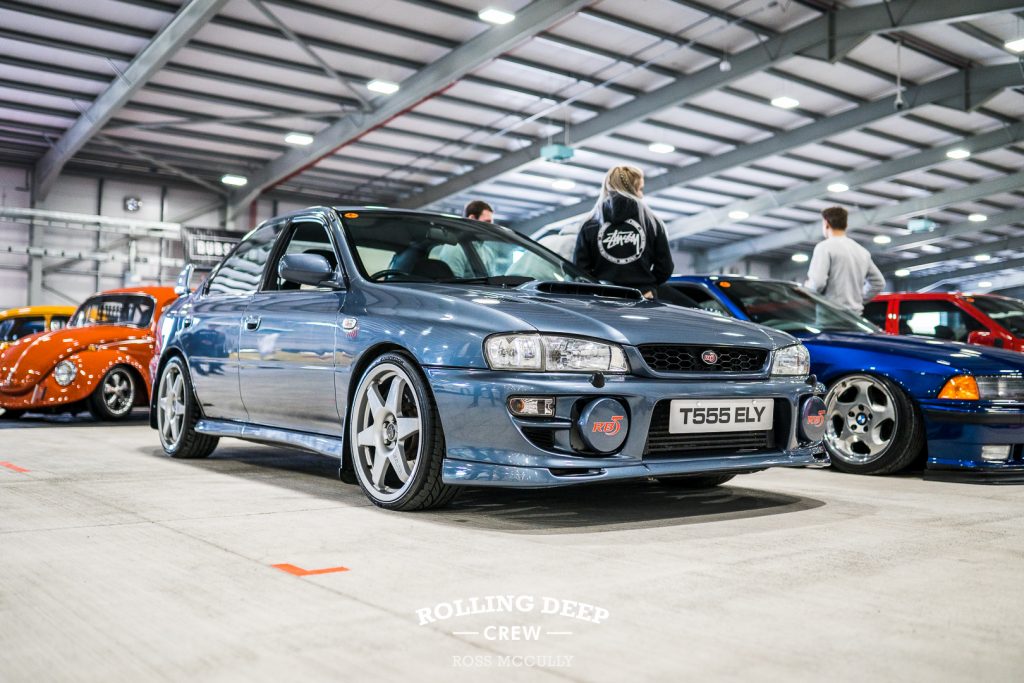 The car sits on Revolution Rally ET48 alloys with the factory standard Blue Steel metallic paint. This particular car is a perfect example of a car that's well kept with a clean underneath in perfect condition which was placed in the top 25 at the show.
To finish off the Logan Hall we thought we'd take a step back in time and show a few German classics on display.
This is Chris's fully restored 1971 BMW 2002tii which also took top 25 in Dubshed. Chris didn't cheap out when it came to restoring the 02 stripping it back to the metal and getting it done the proper way a car should be restored. The car itself had the full interior restored as well with his E21 Recaro seats. If you see it at a show, it's well worth a look!
Not far down the hall from the 2002 was James' Mercedes Benz 250 SE which turned a few heads.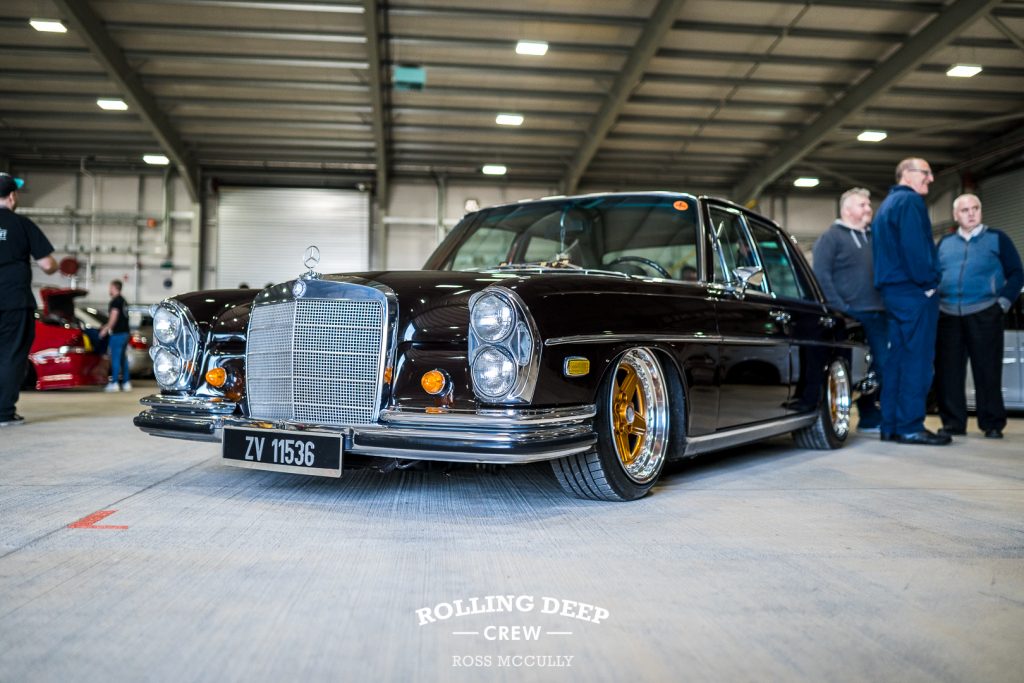 CLOSING
It's fair to say that Dubshed has been around a while and I'm sure it's not going to go anywhere any time soon and can only get bigger from here on out. I've personally been attending for 3 years now and it's great to see more than just VAG bringing everyone together no matter what they drive.
Photos & Words: Ross McCully
Location: Lisburn, Northern Ireland