Fitted UK 2019 Top
For anyone who's followed since we came to the scene they'll know that it's been less than a year with our first kind-of anniversary coming up in August (a story for another time – if you've followed us a while you'll know). For me personally, I've been taking photos in the scene for around three years and in those three years haven't once ventured outside of Northern Ireland where we're based.
This year I decided it was time we got to shows in the mainland, pretty much because we felt we were missing out on a whole lot more than what Northern Ireland could offer with its larger land mass and more people to build cars. Luckily with access to two airports not far from Belfast travelling isn't tricky so I flew out to Manchester on the morning of the show to then head back later in the evening after the show – tiring wouldn't describe how I felt at the end of it all (and I'm still recovering).
For car enthusiasts certainly in the UK, and probably some from around the world, you'll have heard of Fitted UK which first appeared back in 2012. It's one of England's biggest indoor car shows bringing together vehicles from all across the scene including lowriders, stance, classic, performance and even a truck this year.
The show is held in EventCity , Stretford (beside the Intu Trafford Centre) which is around 4 miles south-west of Manchester and easily accessible by boat and plane. With 28,000sqm of indoor space to play with the amount of cars you can fit inside is next level to any venue in Northern Ireland with one of the largest being 10,000sqm of indoor space.
HALL 1
Upon entering the show you walk into Hall 1 which this year it hosted the BMX display.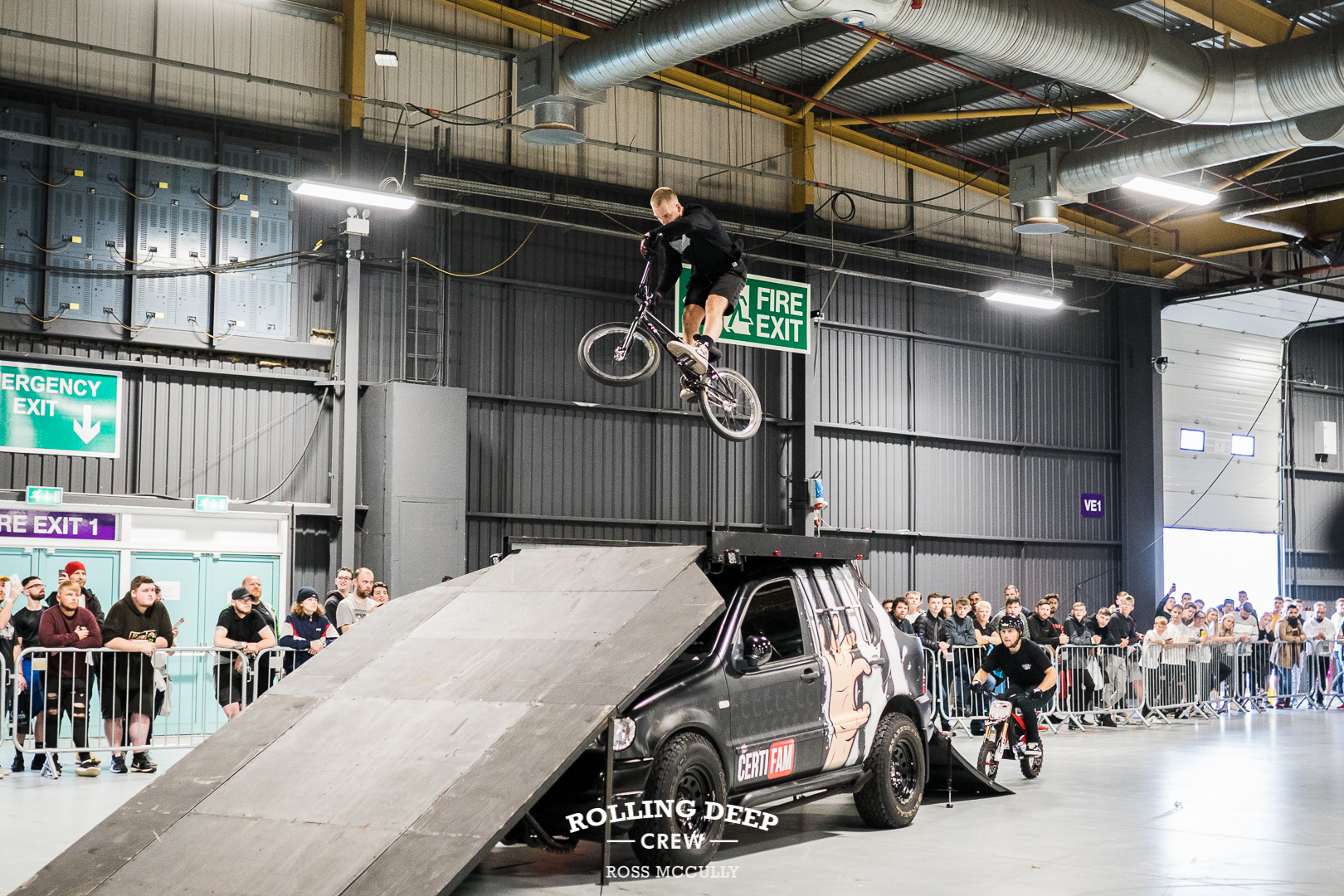 Something Fitted do well is providing alternate entertainment at car shows but also keeping it in tune with the show itself. Youtuber Ryan Taylor had his Mercedes ML parked in the middle with a ramp over the top giving space to get air on the bikes with other riders including JAKE 100 and LittleHarry15.
Some mad things were in Hall 1 giving people a taste of what was to come in the other halls with Fitted UK's own Adam King with his 2015 Mercedes S400. Adam certainly knows one or two things about VIP builds making sure he got the biggest wheels he could find.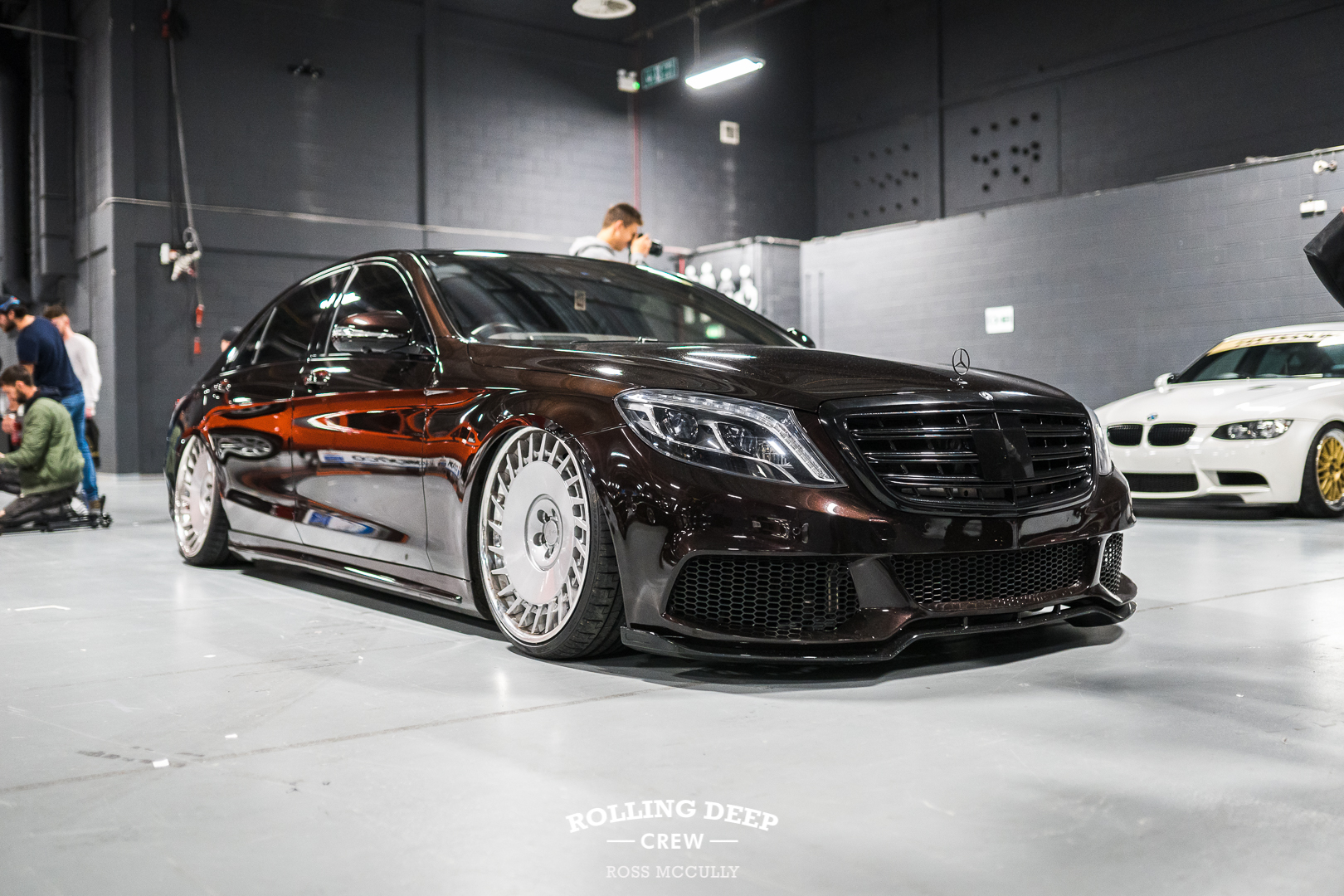 GANGSTER ENOUGH?

HARD TO ARGUE WITH AN S CLASS MERCEDES.
Another noticeable presence in Hall 1 was the boys and girls from GhettoWxrkZ including Jorge with his '98 Honda Civic LS Summer Special (only 42 remaining in the UK), Josh's rust-free '89 Nissan Prairie SGL and Ashleigh's '87 Honda Ballade EX.
HALL 2
This is where it gets blurry in what hall we're in but we're doing our best to keep up and this hall was no different with hosting the main stage and ILB Drivers Club stand who I'm sure everyone has heard of. Never met a sounder bunch of guys who do what they do for the passion of cars.
For anyone who knows anything about ILB will know they are from Northern Ireland (which is where we're based) and to know these guys started here and are now travelling the world doing what they love is immense.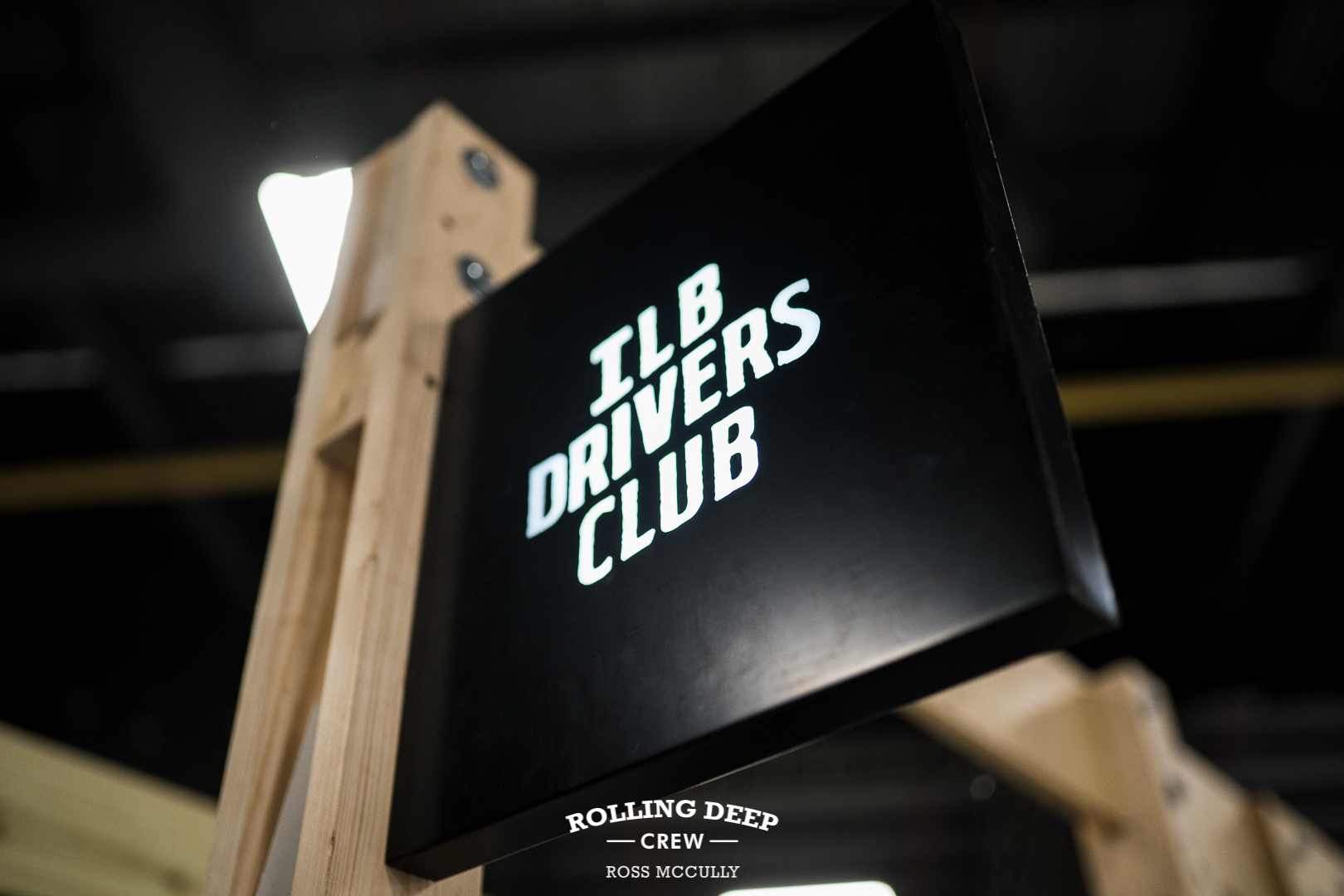 Keeping in with the Northern Irish theme next up is Bradley's 2011 Nissan GTR Liberty Walk which was a last minute decision coming to Fitted UK as just over two weeks ago the car was still completely stock.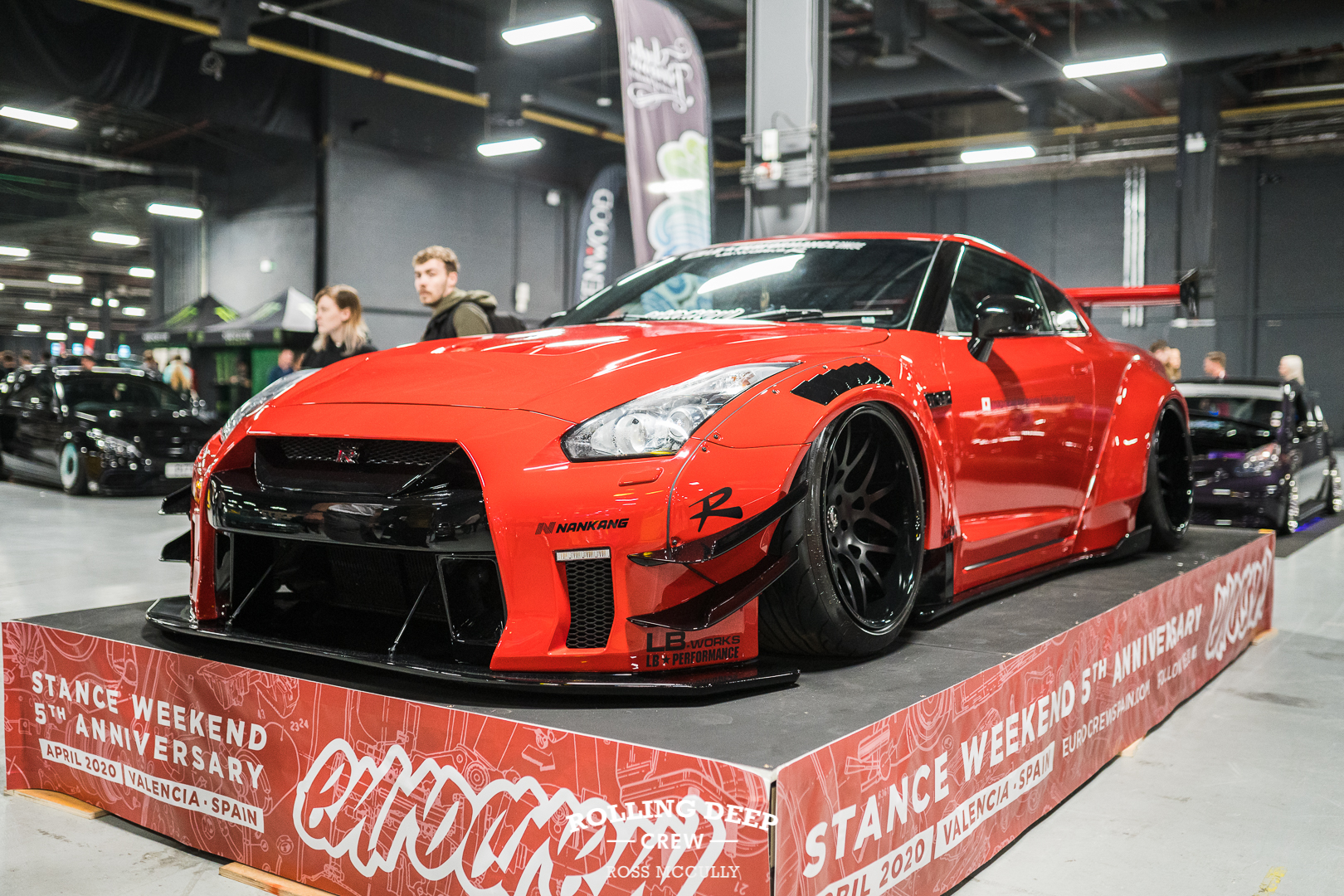 With so many cars on a next level it's hard to pick what to feature but it was hard to avoid giving the next one a mention. With it being placed centre stage it was hard to go a miss checking it out.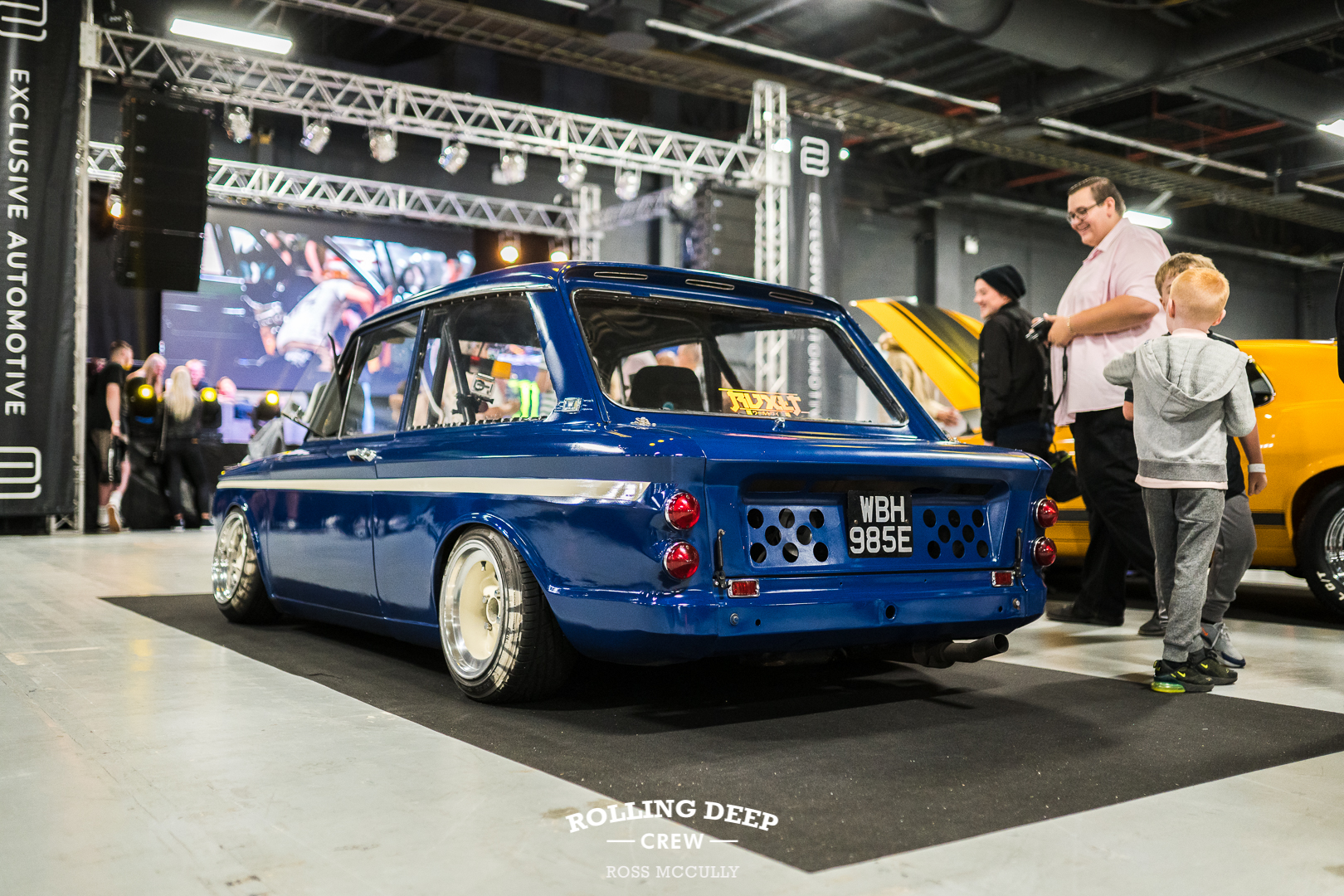 We think it's IMP-ossible to hate on.
For those of you who are into their classical cars or lived through the times will probably know this is a '67 Hillman Imp Super. During it's time it was an affordable economy car being the first British mass-produced car with the engine block and cylinder head cast in aluminium.
HALL 3
You would have thought by now two halls was enough but there's two more to go so hopefully you're still awake if you're even reading this. If you thought it was going to get worse, you'd be wrong because the standard at Fitted UK is a high one.
This next one is one of a kind and Hall 3 had a few of them. This V8 Scania from GM Commercials was sure catching eyes at the show having made the trip across from Northern Ireland where it's a daily workhorse. It doesn't need words, the photo's do all the talking.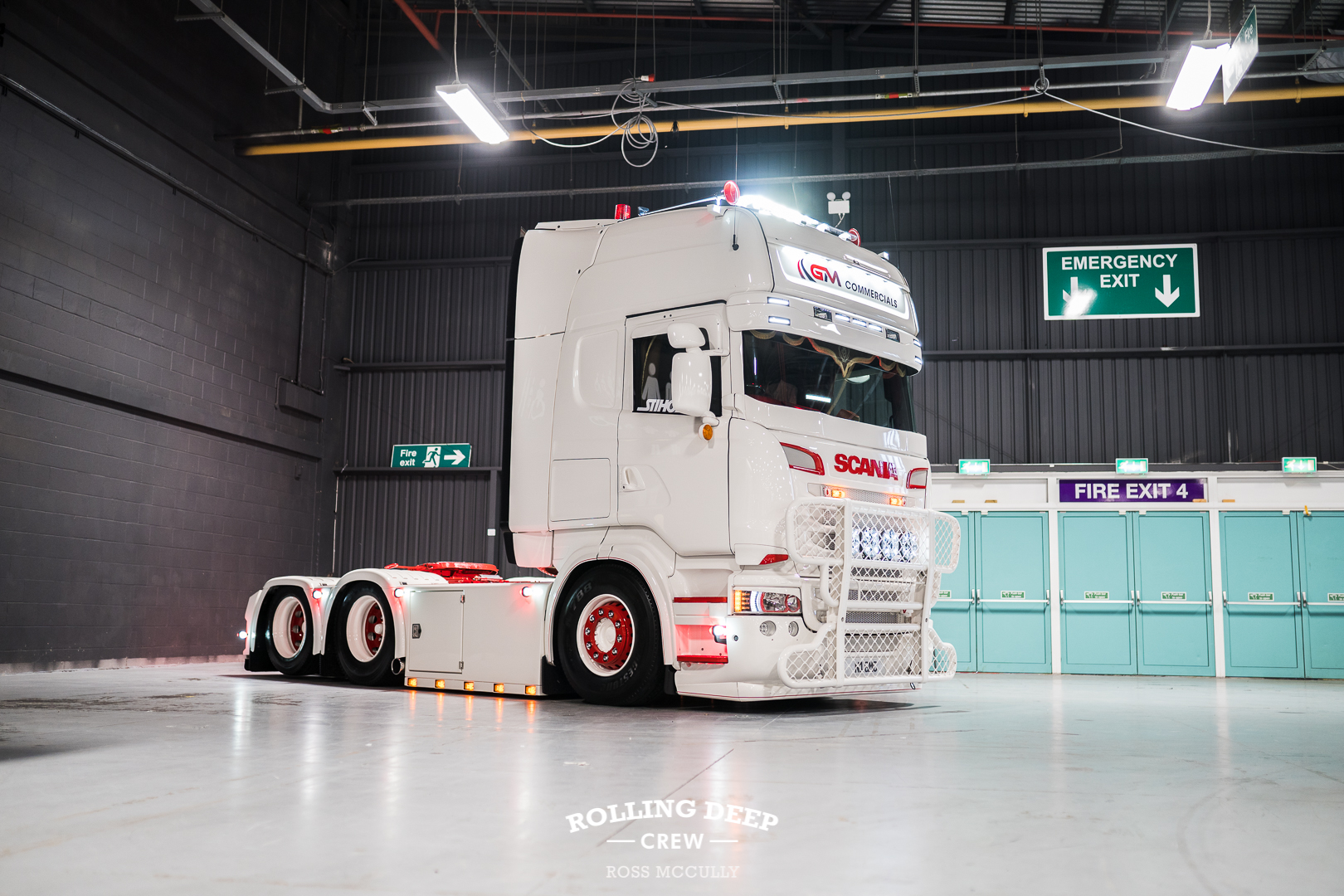 Breaking it up we have Lay n Play Lowriders cars who put on a show giving everyone a bit of an American vibe in the UK.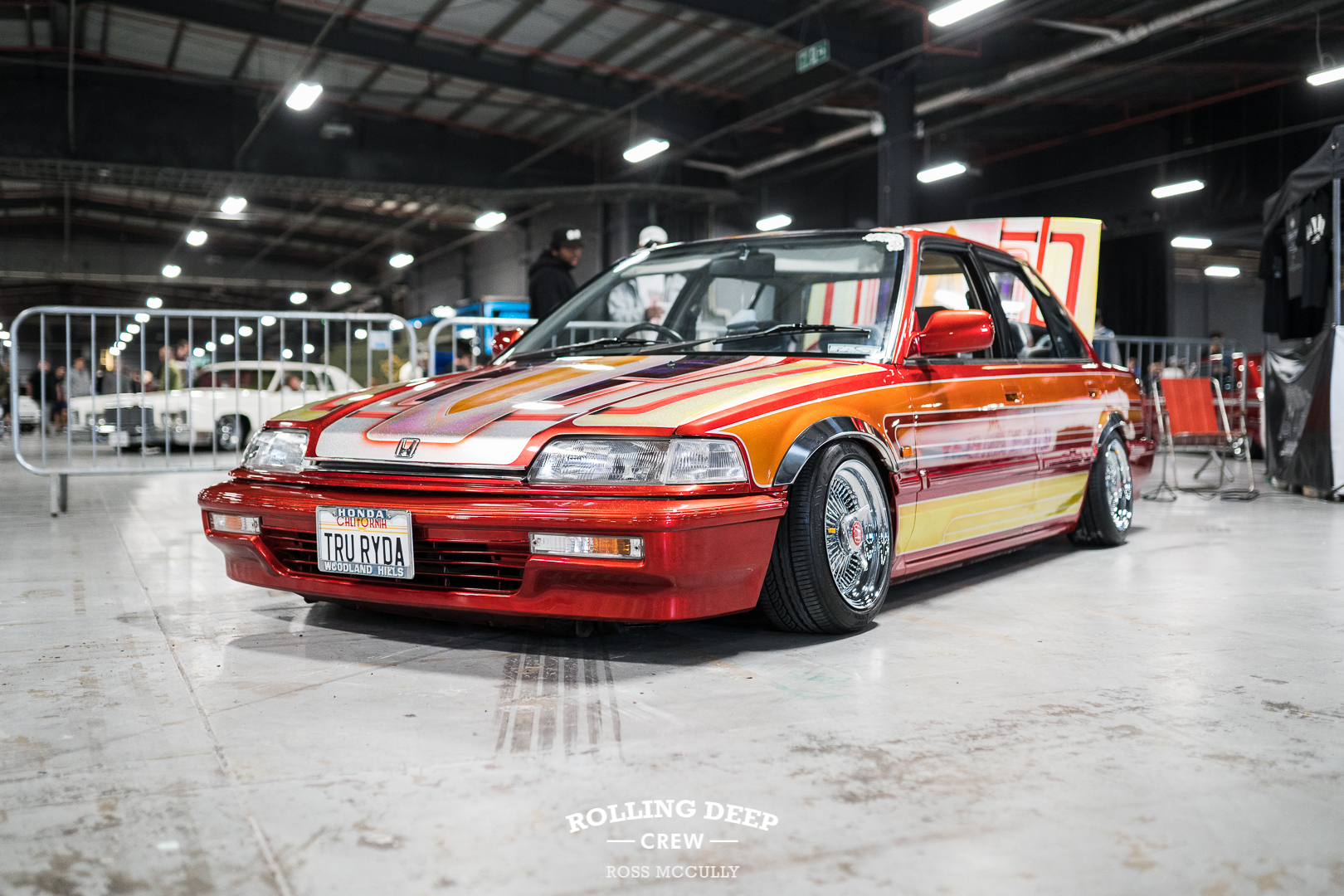 THIS THING CAUSES CHAOS
It's not your every day Honda
If you're wanting to see what they're all about then keep an eye out for our Fitted UK aftermovie to see how they roll.
We'll keep this one brief – this is Post Malone's tank.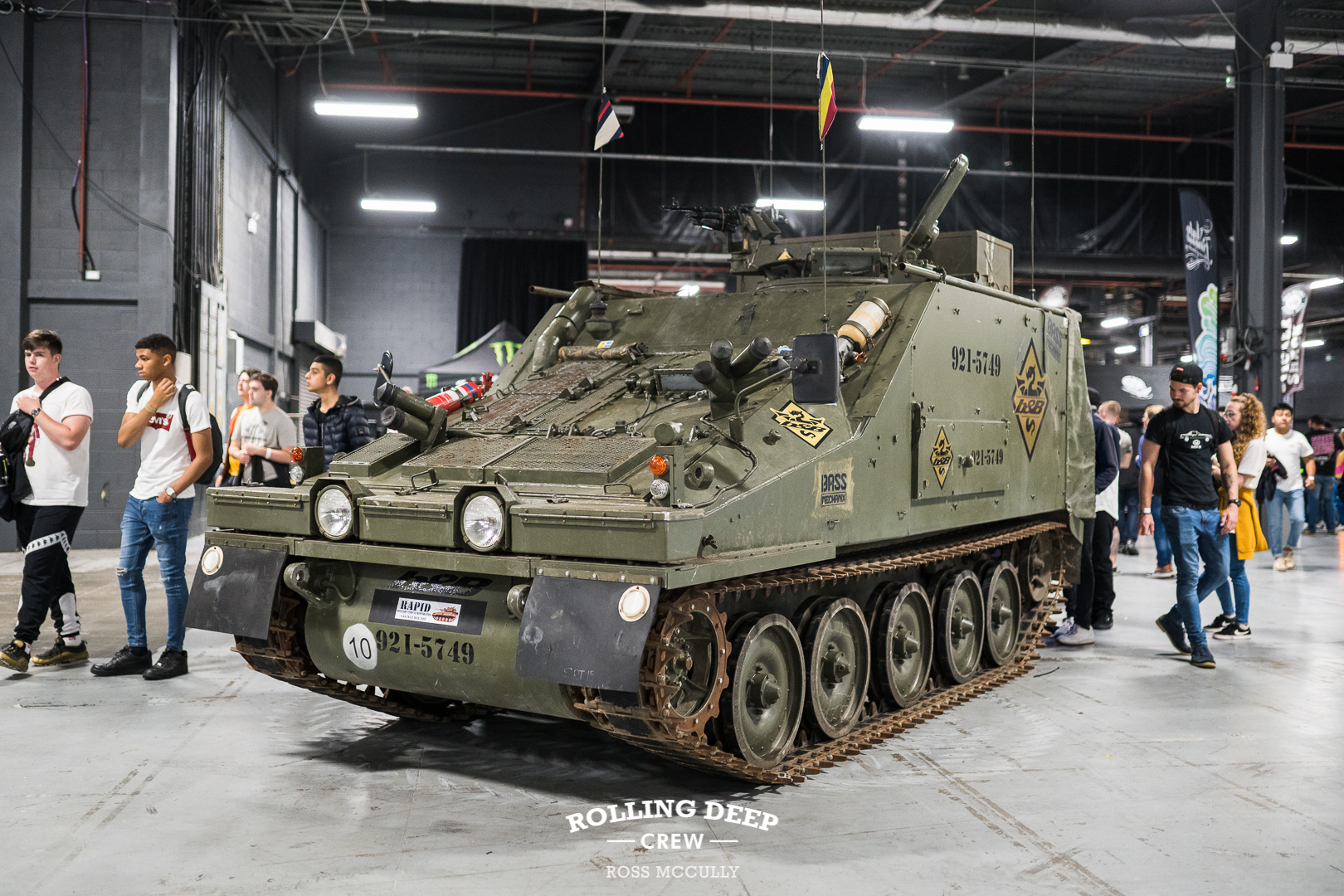 Taking us through to Hall 4 is Arne's Polo 6n Harlekin which you may have seen at VW Days as Arne is from Belgium (yes, it isn't France, but you get our point, he's not from the UK).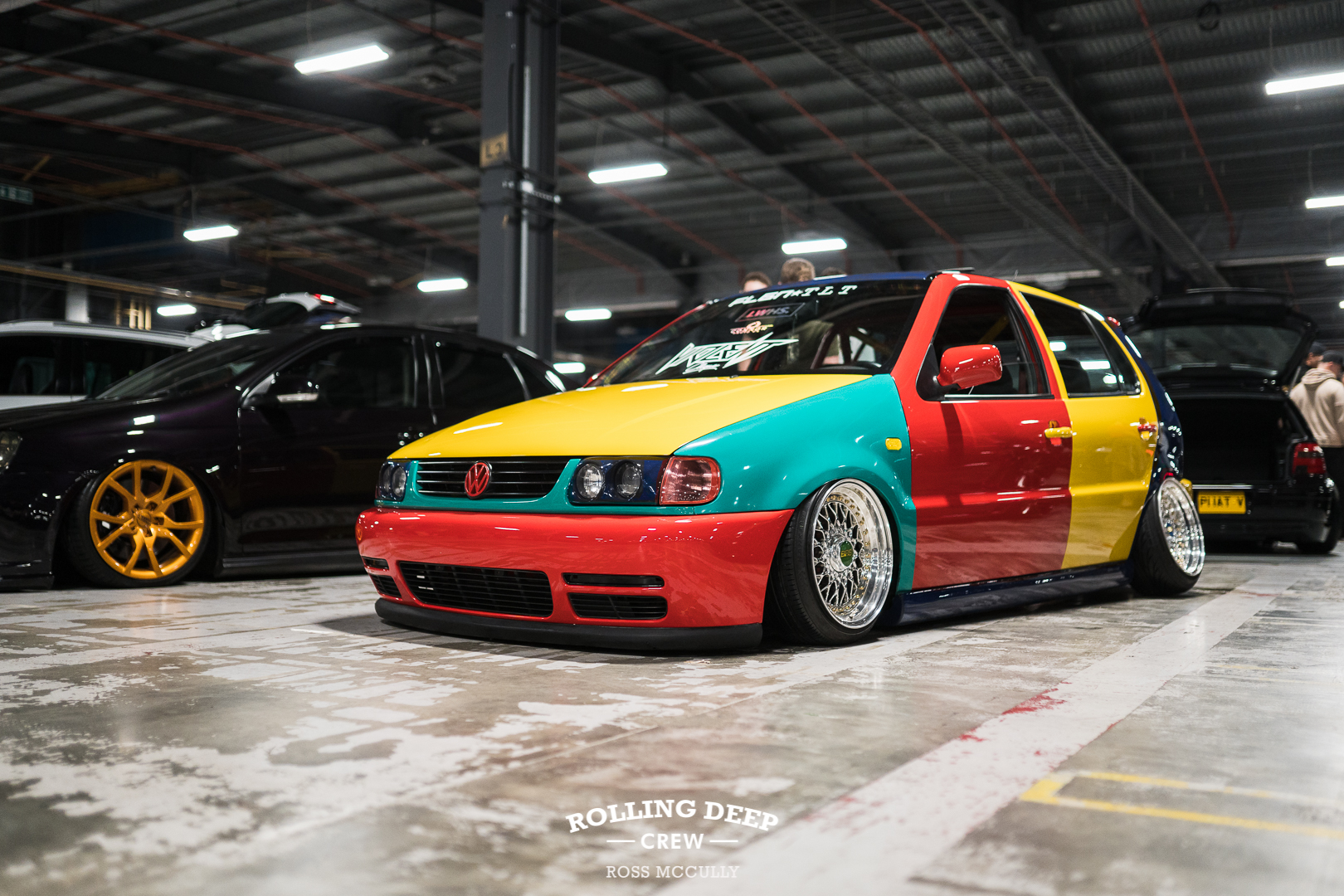 For some the rear camber might be eyebrow raising but to us it works and fits the car, it's understated.
HALL 4
We're at home base now and onto the final few cars. To kick it off we have Vish's E36 Touring which if you were at the show probably heard it won best interior of the show and rightly so.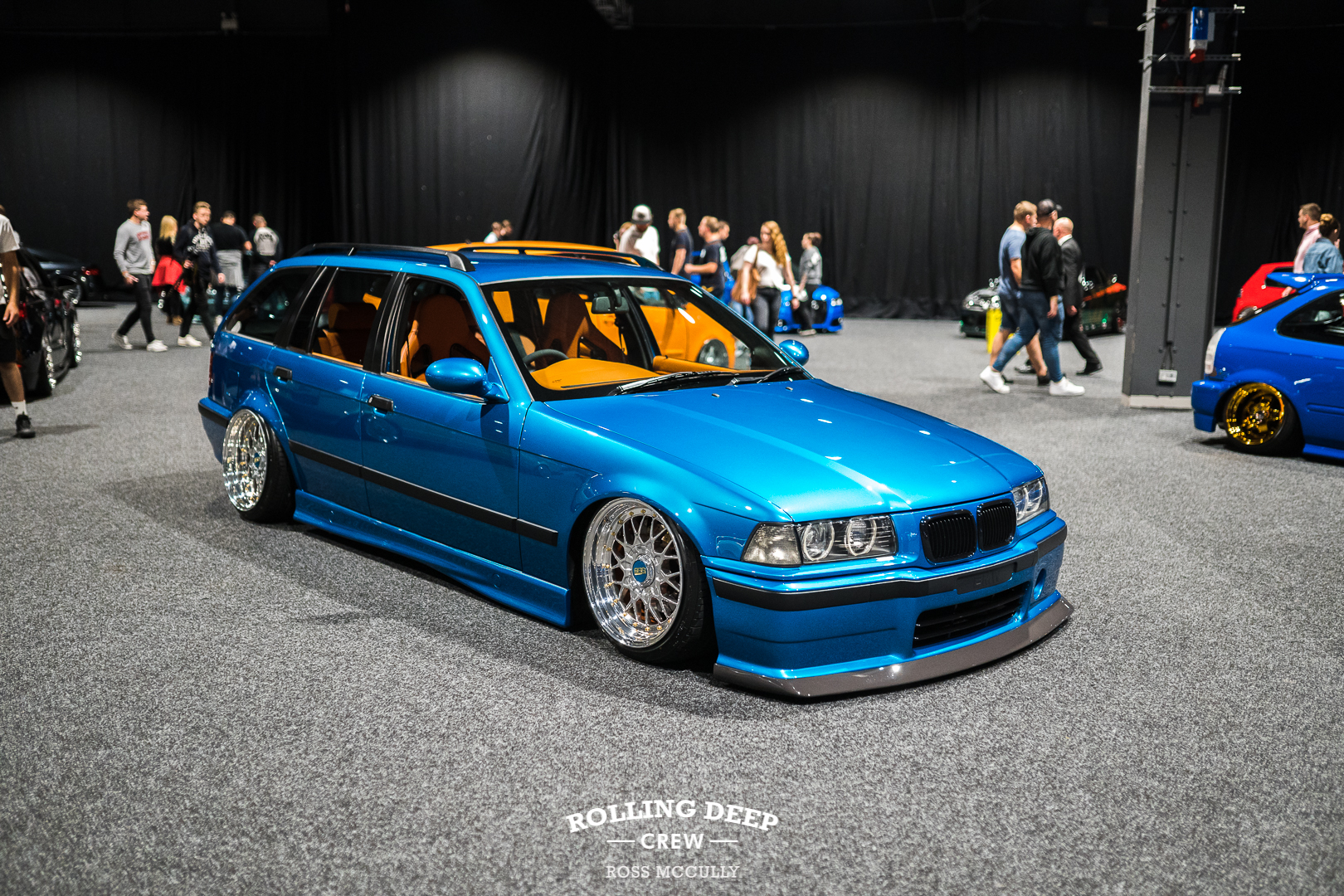 If it wasn't just the interior that's looking mad it's the exterior too. The car's fitted with polished BBS RC's sitting on an Airlift bags set up.
From something that's becoming somewhat of a classic to the modern age this 2017 Mustang GT certainly got a lot of attention with its carbon bits.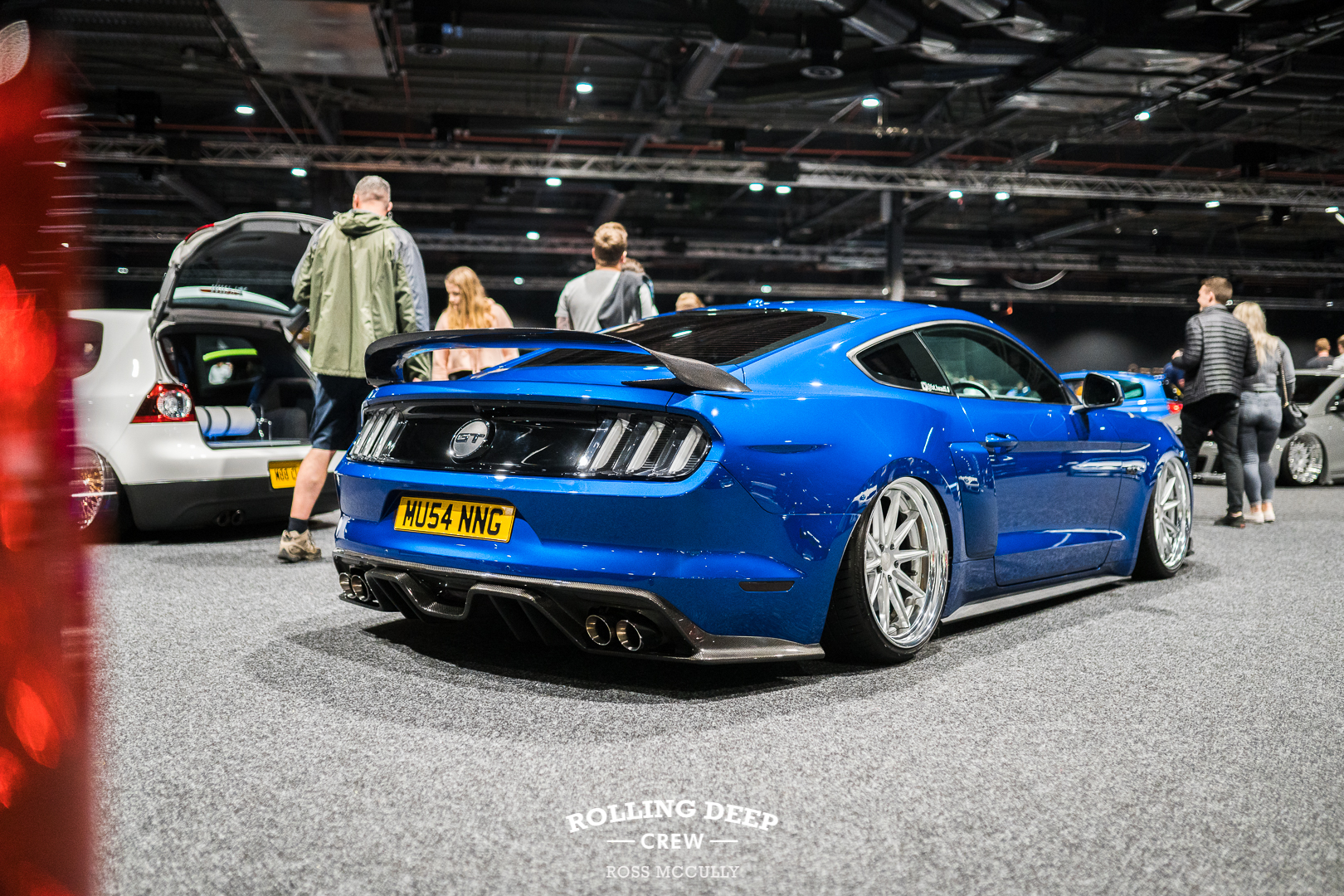 Finally we thought it was only appropriate after showing the fossils we showed the future with electric power. Some people may have walked into the VIP and didn't see it or screwed their nose up but sooner or later it has to be embraced and no better way than with Dharman's Revozport/Vossen Tesla Model X which is daily driven.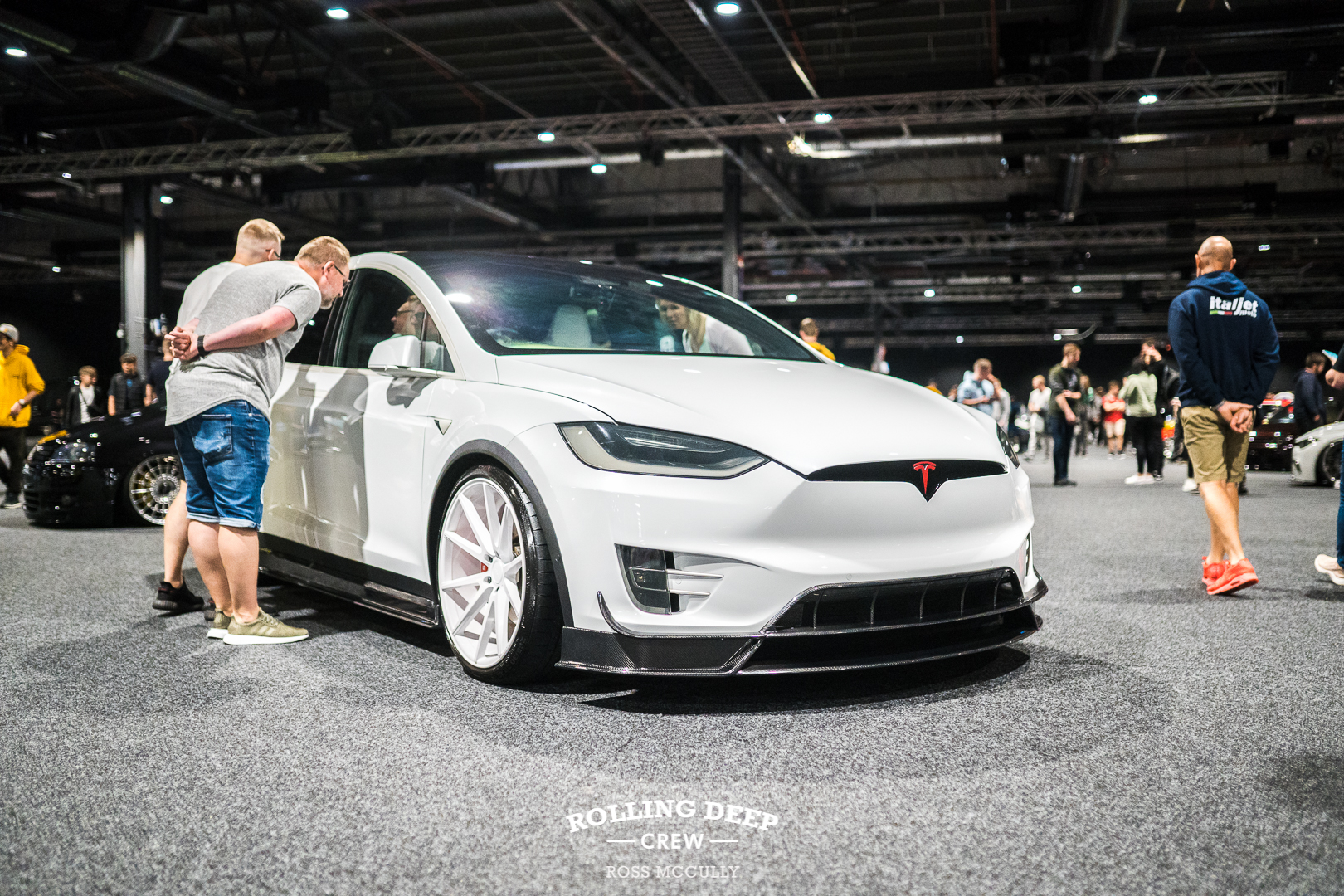 DON'T DRIVE LIKE A KNOB
Wise words from Koski below even though people apparently still don't listen but without this guy the show wouldn't exist and especially with the help of his team.
For our first show outside of Northern Ireland it was a great first with the standard of cars on another level and we got to see some phenomenal builds. It definitely won't be our last time over and hopefully we'll get to some of the other great shows.
Keep an eye out for our aftermovie of Fitted UK 2019 over on our Youtube channel!
Don't see a photo of your car? Check out our Google Drive with 400+ photos from the show (also good if you're bored or want to see some spicy cars): https://bit.ly/2ZDC496
Words: Ross McCully
Photos: Ross McCully
Location: Manchester, UK