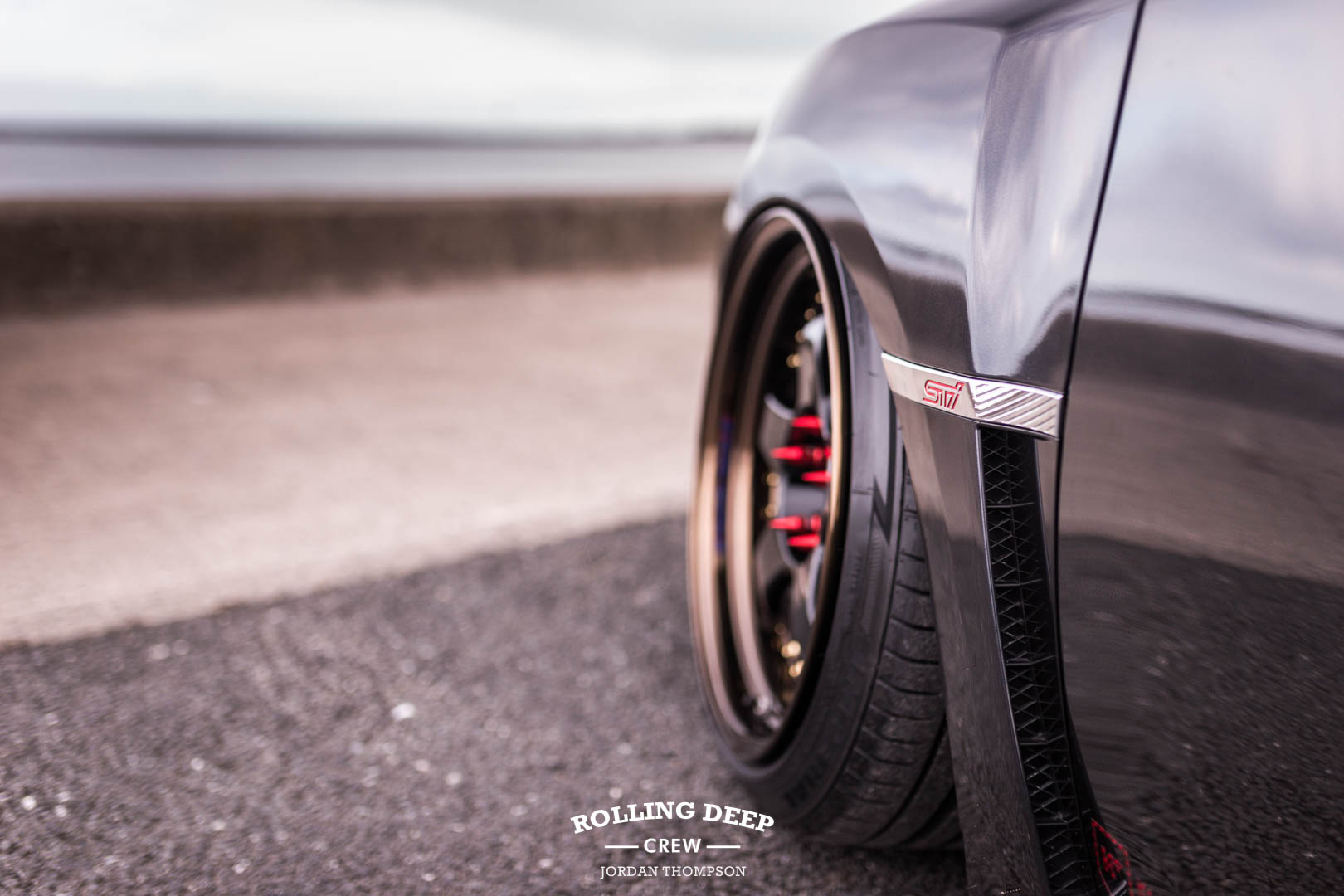 It doesn't take much of a glance to tell Matthew's Subaru isn't stock which was noticeable with the attention it got driving around Millisle. The car definitely has heads turned with it standing out as one of the best stanced vehicles in Northern Ireland. The car reminds me of the American stance scene where they're not afraid to go all out and make a statement with their cars.
Starting from the bottom, the car is sitting on Work Meister S1 3-piece gloss black with gloss bronze lips, 18×10 with an 18 offset. These wheels really make the car stand out with the Epman racing spiked lug nut kit adding a touch of the US scene. Personally I wouldn't think the wheels would suit it but with them on it sure completes the builds unique look.
The car sits on a full Airlift Performance 3P set up allowing the cars height to be controlled in the car using the controller or wirelessly by phone using bluetooth. This set up was installed by Matthew himself and he's done a good job at it with no problems so far with the system. Matthew's proven it's easier than some make it out to do it right when you follow the instructions.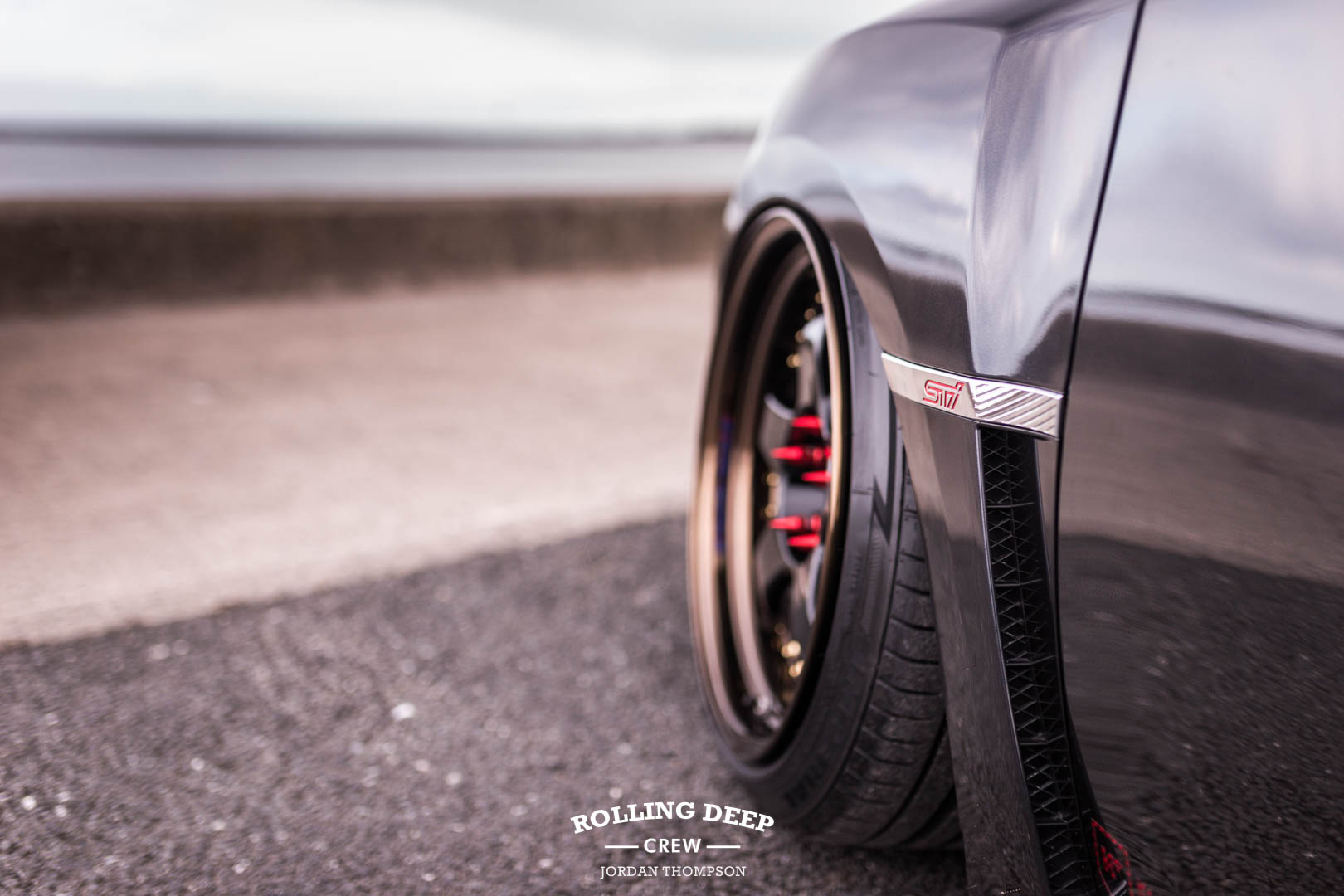 On the rear of the car is a Varis wing with carbon fibre blade with a Strafe design diffuser at the bottom of the car.
If you thought the outside was all that was done you're wrong. With some adjustments made under the bonnet and elsewhere including Godspeed G hook brake package with kevlar pads along with braided brake lines to protect the brake lines being a lowered car. The car also benefits from a Stage 2 map with an uprated fuel pump and a Mishmoto air intake system. A cobra exhaust system is fitted with a decat downpipe for the perfect Subaru rumble.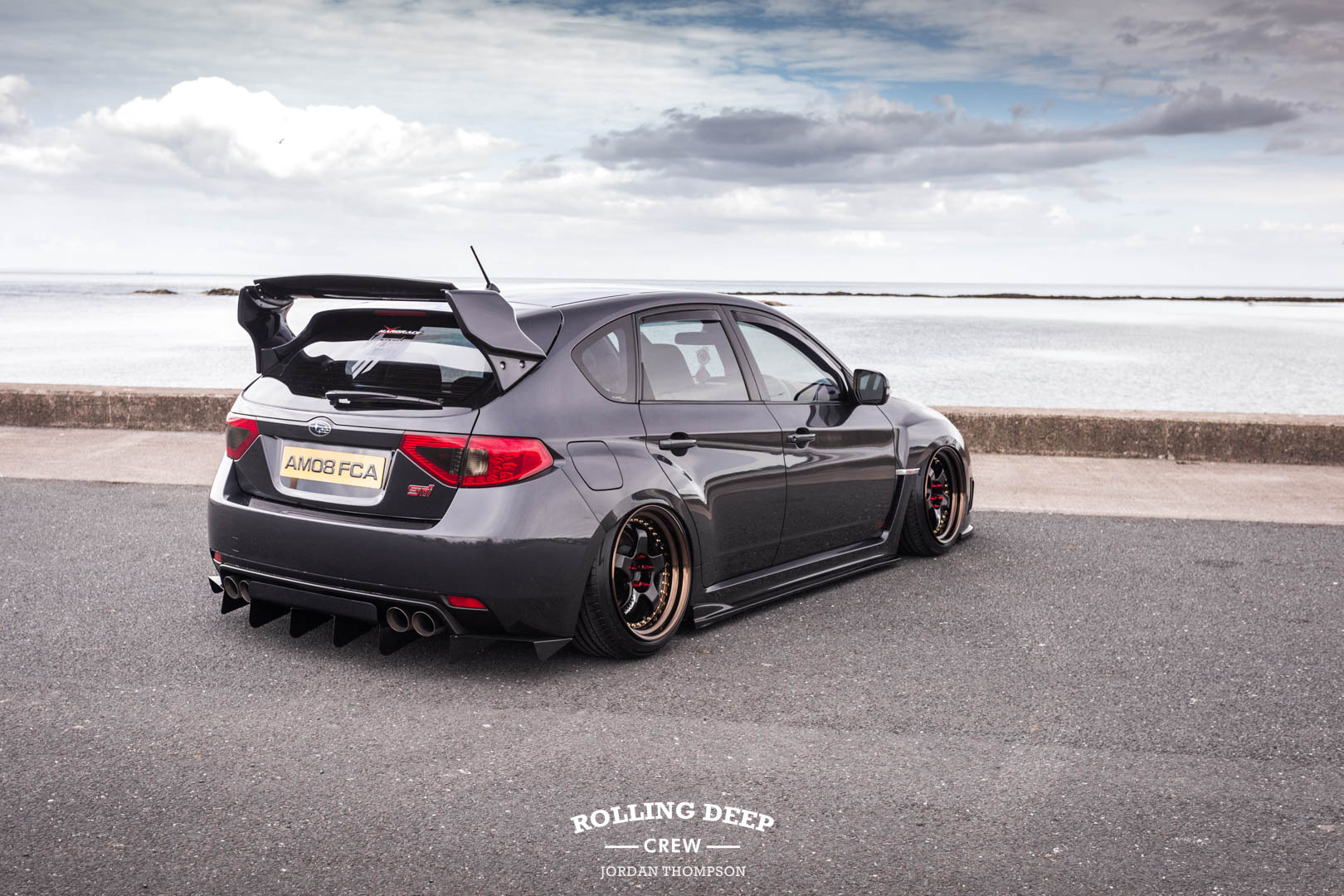 Full spec sheet

Outside
– Varis wing with carbon fibre blade
– Heko wind deflectors
– Maxton design splitter
– CS side skirts – sprayed in gloss black
– Smoothed & resprayed front bumper
– Strafe Designs diffuser
– Cobra exhaust system with a decat downpipe
– Airlift 3P management with performance bags
– Hella twin horns mounted with Perrin bracket
– 3D Metro Plates
– Epman racing spiked lug nut kit
– Carbon fibre eyebrows
– Rear taillight overlays (by ATM graphics)
– Cobra exhaust system with a decat downpipe
– Airlift 3P management with performance bags
– Hella twin horns mounted with Perrin bracket
– Work Meister S1 3-piece gloss black with gloss bronze lips (18×10, 18 offset)

Inside
– Whiteline adjustable rear toe arms
– Whiteline adjustable lower rear control arms
– Godspeed G hook brake package with kevlar pads
– Braided brake lines
– Xtrons headunit & Facia dash trims
– Sprayed gloss black custom CNC vent boost gauge mount
– Stage 2 mapped uprated fuel pump
– Mishmoto air intake system
– Turbosmart boost gauge
– HKS Turbo timer
Photos: Jordan Thompson
Words: Ross McCully
Location: Millisle, Northern Ireland